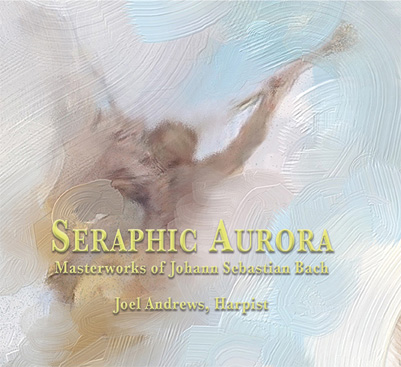 Seraphic Aurora
Masterworks of Johann Sebastian Bach
Joel Andrews, Harpist
"Masterful harpistry--a crowning achievement"
Dear Friends and music lovers, we are thrilled to announce the long- awaited arrival of Joel Andrews' exquisite new CD, "Seraphic Aurora". This is truly one of Bach's masterpieces.
Mr. Andrews brings exquisite nuances and mastery to new heights, as Bach comes alive with his expression and brilliant interpretive subtlety.
Included are the "Prelude No. 1 in C Major" -- "Prelude No. 8 in Eb minor" -- "Partita No. 2 in D Minor" (includes the celebrated "Chaconne") -- along with his sublime improvisations in the style of Bach, "Seraphs of Light" and "Aurora Borealis".
It is a divine expression of his finest musicality and gifts.



Dear Friends and Fans of Joel Andrews,
Joel Andrews was a harp master who gave many uplifting, angelic harp concerts all over the world. If you were lucky enough to have attended any of those golden concerts, you will surely remember Joel and his exquisite transcendental harp music.
Joel's album "Ave-Maria Meditation" and "The Violet Flame" or now streaming on the internet! These are the first of his many albums of celestial harp music. They are Jewels of Light!
The albums are available as a digital download in their entirety on the Valley Entertainment website: (
https://www.valley-entertainment.com
)
You can also hear the whole album FOR FREE by opening an ACCOUNT on spotify.com
Here are the links to stream these albums: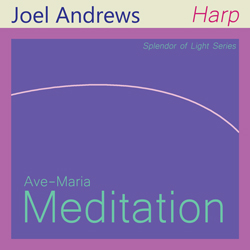 https://fanlink.to/ave-maria
Ave Maria (Prelude No. 1 in C Major, BWV 846 by JS Bach) - is one of the most moving pieces of music ever composed. Played by master harpist Joel Andrews, it's a very special listening experience.
Meditation – by Joel Andrews - offers healing on all levels of your being. The music evokes a purity and radiance that raises one's energy and vibrations to the Celestial realms of supernal light, bringing harmony, healing, balance, and inner peace to your Chakras.
There is also a 28 MINUTE VIDEO of the "Ave Maria" harp meditation
(which is the "Prelude No. 1 in C Major" by JS Bach)
at this link:
https://youtu.be/anmxb6ezfuE
---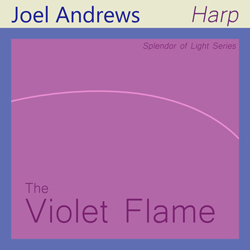 https://fanlink.to/joelandrewsvioletflame
The Violet Flame - Inspires healing and release of negative patterns. It has an elegant, relaxed ambiance, Classical and Cosmic in scope, bringing harmony on all levels of being. Helping you transmute and heal past patterns through the Law of Grace.
Violet Joy - Helps you move through your daily activities, sanctifying them! Lots of info about Joel Andrews on his Facebook page, here
https://www.facebook.com/joelandrewsmusician/
Please visit our Website:
www.harpofgold.org
Email:
goldharp@jps.net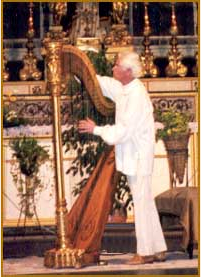 Joel Andrews on Concert Tour in Europe
"Splendor of Light Series"