INDIVIDUAL SOUL-PATH AWAKENING SESSIONS WITH SERAFINA ANDREWS
When we allow the Gates of Heaven to open and spirit descends, a stream of consciousness can begin to radiate through us to awaken a higher sense of the spirit ascending. We can be inspired to know our true selves and clarify, through truth, wisdom and love, our purposes for this life.
Serafina offers her sensitive communion with higher wisdom to help you swing wide this gate. She has been called a seraphic oracle, as the voices of a host of angels and masters in ascension speak though her. Their words can help you open the soul level of your being and transform and heal the painful emotional, mental and physical blocks which create conflicts and challenges.
Attuning to your true inner subconscious mind, she can help you find your way out of confused states of being, toward the harmony and balance of a peaceful, successful and abundant life. Many people have experienced a new self emerging through these soul-path awakenings.
Unveil your hidden talents and unique gifts.
Discover the spiritual significance behind all diseases.
Reclaim your keys to life as you align with your life purpose.
Find peace in your heart and mind concerning your next step.
Allow your natural ecstasy to radiate outward and light up your life.
Are you ready to open up to new expanded horizons of potential?
These sources are ready to help you set foot on the path toward miracles of transformation.
OPENING TO YOUR SPIRITUAL PATH
In this session the Sources will reveal and help you recognize those areas in which transformation will bring the most peace and healing. The clarity of this seraphic wisdom and guidance can help you toward awareness of your purpose and the deeper meaning of your life. These insights can help you align with your most fulfilling soul-path. In-person appointments can be made for this and the three sessions which follow, but your presence is not required for these readings.
2 Hrs. $165 order here
HEALING EMOTIONAL
AND PHYSICAL BLOCKS
In this session we will uncover what is actually behind the dilemmas you are facing and suggest change and healing, often by realizing what intentions and motives caused them, and the valuable lessons to be learned. Why not choose to release these physical, mental and emotional blocks now! Life could be a more joyous experience if you were free of them.
2 Hrs. $165 order here
AWAKEN THE ARTIST WITHIN
Would you like to open your creative flow by empowering the aspiring artist within you? In these sessions we will go deep into your subconscious to bring forth your true capabilities. Your higher self already sees these gifts, visions, and potentials. Especially helpful for writers, poets, artists, and musicians, or anyone else interested in leading a creative life.
2 Hrs. $165 order here
~ ~ ~ ~ ~ ~ ~ ~ ~ ~ ~ ~ ~ ~ ~ ~
Come join Serafina in the beautiful redwoods of Northern California near the Mendocino Coast for your Personal Session!


"The Artist's Way"
Opening to Your Highest Potential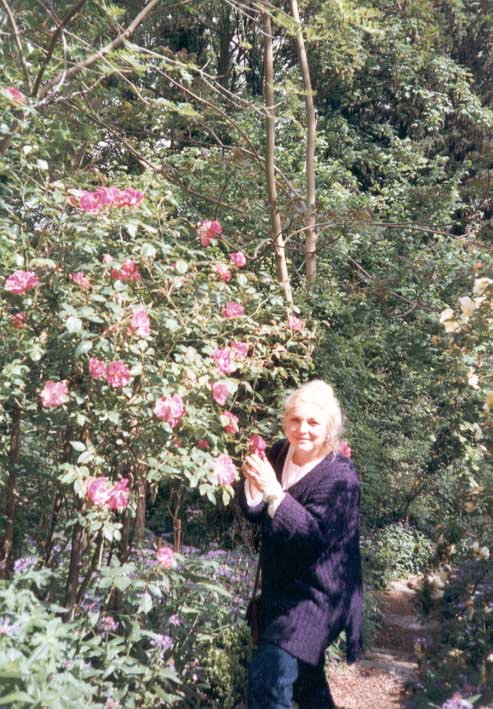 The search for the highest truth and deepest fulfillment is a potential We all have. This personal session calls forth the artist within you who longs to fulfill the call of your heart and soul. With the help of guides and masters we will call forth your highest potential and show you steps toward reaching this goal. As the artist within you opens to this calling you will see how to contact, listen to and trust your own inner guidance, the key to all success and fulfillment.

Each session is designed for the individual, directed and focused on their needs and potential. The methods will differ for each individual artist. Success in using these methods is a step towards this enlightened path.

This includes the Individual Soul - Path Awakening session, "Awaken the Artist Within"
~
Sessions with Serafina will take place in her Barn Studio
On a 100 year old apple farm.
$450.00 per day.
50% deposit at time of registration.

To schedule your appointments Please contact Serafina
(707) 964-6740

Directions will be sent at time of registration.
Please note: if there is a need for cancellation, there is a $50 fee to cover the time and preparation for your special session needs. We are about 2.5 hour drive from Santa Rosa and a 4.5 hour drive from San Francisco.

For "The Artist's Way" sessions, you must be present: Come enjoy the Mendocino area while you are here!


TO ORDER INDIVIDUAL SESSIONS

Please send your full name, address, which Session you would like, and three questions of your deepest concerns - (of course they can be questions of a more personal nature apart from our listed Awakening Sessions) - (typed questions are preferred, but not necessary) with a check or money order (in US Funds). This fee is for the Oracle's time, not for any possible healing and guidance, which is beyond price. These sessions can be done long-distance or in person by creating a special CD for you.

To send online, click here, or,

write: Serafina Andrews / PO Box 1073 / Mendocino, CA. 95460-1073 / USA / Ph./FAX: (707)-964-6740
---
About Serafina
Serafina Andrews is a Renaissance woman.
She has 30 years experience as an intuitive in many countries, bringing through personal as well as general and higher information. She does it with a great deal of love and respect, drawing on a rich spectrum of experience. Early in her life she was fortunate to have a career as a concert ballerina, classical Spanish dancer, and flamenco harpist, touring worldwide. She also studied art at the well-known Chouinard Art Institute in Los Angeles. Her paintings have sold throughout the United States and Europe.

She has traveled extensively throughout the United States, Canada, Europe, Japan, Australia and Egypt, giving seminars and retreats with her husband, harpist, Joel Andrews on "Opening your life to the Angelic Presences." With her compassionate wisdom and love, she has helped many troubled souls, as well as leaders of light centers and ministers to see truth in their unique ways.

As a poet she has published "Keys of Passage" and her recent books, "The Wisdom of Emotions", "Star Catchers" and "Songs of the Daughters of Delphi, Opening the Star Gates of Heaven". She also authored "The Daughters of Delphi, Prophecies of Awakening" ,"The Egyptian Book of Temple Initiations" and "Dream Time with the Fairy Angels". This book helps children enter the dream time feeling safe and surrounded with guardian angels.

Her CD recordings include: "Doradus", Spanish Harp and Guitar with Kent Newman, "Paradise Bird", "Wings to Paradise" and "Journey toward the Sun", with Joel Andrews.

You can view her recent art work "SerafinArt" and learn more about her books and Individual Soul Path Awakenings at: www.harpofgold.org

Serafina Andrews
P.O. Box 1073, Mendocino, CA 95460
(707) 964-6740
email: serafinarts@gmail.com
web: www.harpofgold.org


TESTIMONIALS
"You did it! You was the key to help me over the great hump into my rebirth and transformation. Your reading catalyzed my new self into the flow. My stress and burden has been lifted, the pressure is vanishing..."
-- Kenjii Kambara, Healer and Retreat Leader
"This CD was the most beautiful gift I ever received. It opens my heart with endless love to the angels, who give you the answers. Thanks many times."
-- Nelly Perneel, Belgium
"Your reading was profoundly extraordinary and so many positive things have happened during this week in regard to the information you imparted...My heart is finally free and light. I cannot thank you enough..."
-- Michele Mikami, Alameda, CA
"The message of the Angel confirmed our purpose - you are a special messenger."
-- Jim Thomas, President, Camps Further Out, Inc.
"I am so changed after my session with you; I feel a completeness to my life I have never felt before...my sorrow is filled with joy."
-- Kathleen Kernohan, Harper/Singer
"Your advice was right on the mark and your delivery was so smooth. You were helpful right away. What an amazing gift!."
-- Emory S., Dona Ana, NM
"Your session has helped transform my life."
-- Gloria Rios, Olympia, WA
"Your session CD is without a doubt the most lovingly prepared I have ever received. I love all the details...the love and care are noted and appreciated! Please know that I truly feel that the advice on the tape you made for me led me to greater learning and new doors
opened for me. During the session you had for me, I was told to pray for the Holy Spirit to come into my life, and indeed it did, in the name of the Doves, RA-ja and Moi-RA Dove, who are of the order of the Dove. I learned many more things about who I am and am very grateful for my continued spiritual growth to the light beings who
so guided me."
-- Birgit, Oklahoma
---
The Wisdom of Emotions
by Serafina Andrews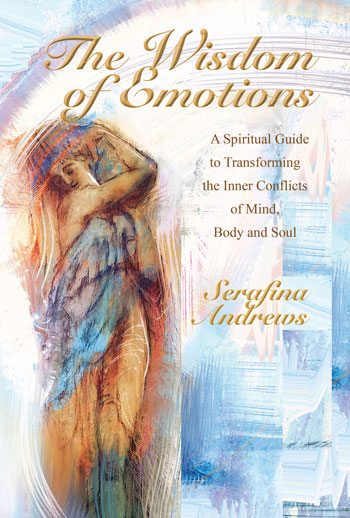 In this unique and remarkable book, Serafina Andrews draws from Universal Spirit to open the archives of higher wisdom concerning human emotions. Here you can experience profound insights into what your emotions are trying to awaken in you. Through understanding the message behind them you can be released from long-term suffering, and re-unite with positive forces in your life.

"Your new book has transformed my life. What a gift! I felt deep healing emotionally and mentally and inner peace and more love in my heart. Thank you for sharing this jewel!"
– Rev. Carol Eckels, The Spiritual Healing Center, Mill Valley, California

"It is a beautiful sacred and wonderful book that will bless so many lives, especially at a time when people really need this kind of guidance."
- Catherine Rourke, Award-Winning Writer, Journalist, Columnist, Author and Editor
BOOK $16.98 ORDER HERE
---
NEW!! Dream Time with the Fairy Angels
by Serafina Andrews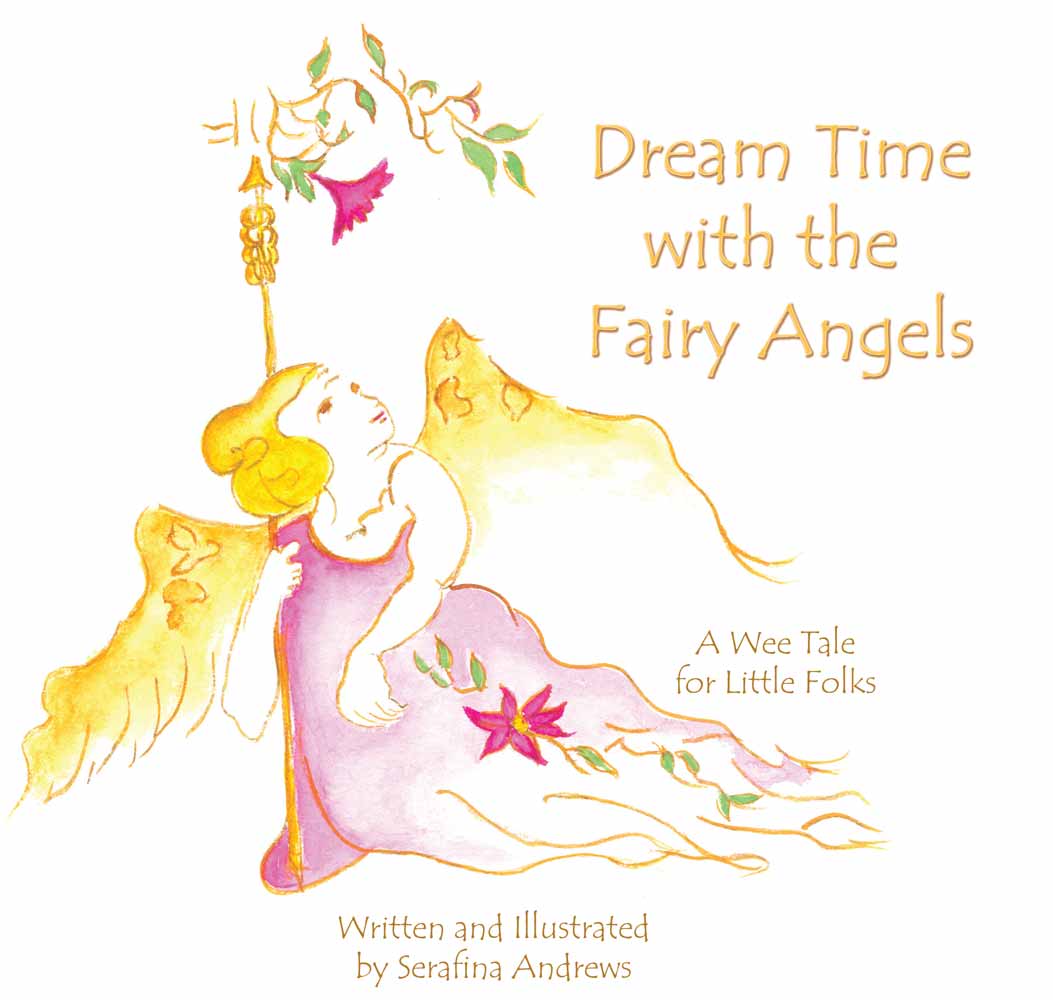 Imagine a book that can help your children enter the dream time at night knowing they will feel safe.
This charming book, with the help of the fairy angels, invites little folks to dance, play, and have fun as they are shown a positive view of the world. It can help them open to their own creative gifts.
26 pages of Story & Beautiful Illustrations
BOOK $9.95 ORDER HERE
---
New CD! "Harp Of the Fairy Angels
with The Golden Harp of Joel Andrews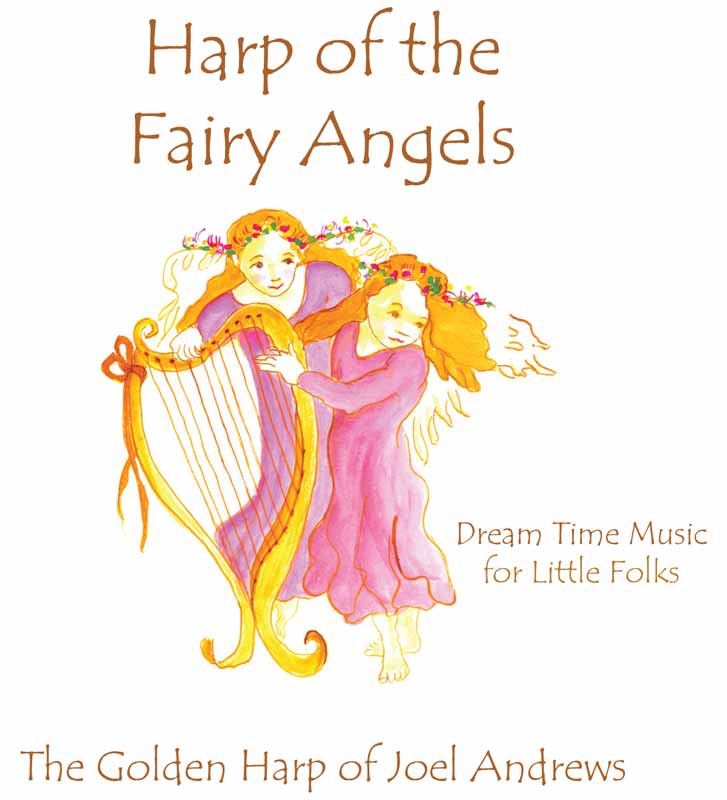 A perfect companion to "Dream Time with the Fairy Angels" to lull your little ones into a peaceful soothing sounds, bringing them positive feelings of protection, well-being, and joy.

Now available as "Solar Winds" with streaming and downloadable releases coming soon!
CD $19.98 ORDER HERE
---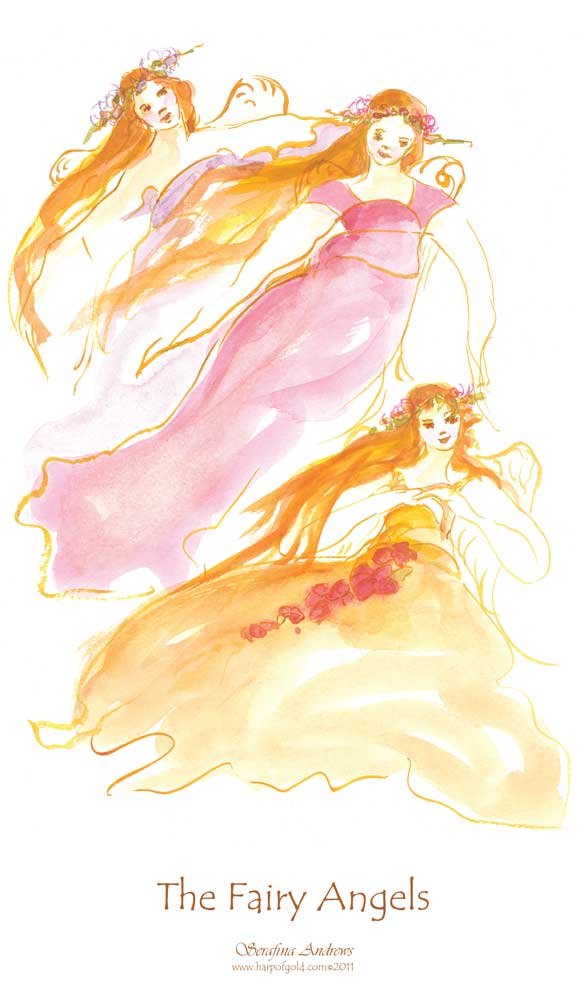 Fairy Angel Poster
by Serafina Andrews
Let these Guardian Fairy Angels surround and protect you as you dream at night! Perfect for your child's room to help them feel safe at night.
This lovely poster comes 13x19" ready to frame, and is sent in a mailing-tube for safe delivery.
Poster $20.00 ORDER HERE
---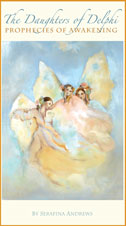 The Daughters of Delphi
- Prophecies of Awakening
by Serafina Andrews
This beautiful poetic vision journeys into Ancient Cosmic time and space to help us see our Highest Potential on earth at this challenging and crucial time of transition.
Daughters of Delphi was inspired by Serafina's recent journey to Malta. As a presenter at a conference called " A Positive Outlook for 2012", she visited a number of ancient temples on the island that bring this poetic vision alive.
BOOK $12.98 ORDER HERE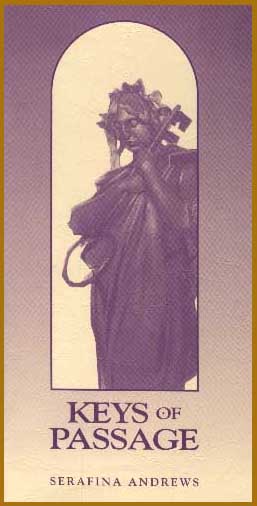 ---
Keys of Passage ~ A Collection of Poems
by Serafina Andrews
"An angelic voice dancing in poetic vision"
Revelations concerning the leaps of consciousness taking place on earth at this time and your role in them. Keys of Passage invites you into the realms of wisdom touched by angelic presences wishing to communicate their love on Earth. May this gift of blessings serve to open your heart to the deeper, surrendering truth of your own essence.
BOOK $12.98 ORDER HERE
---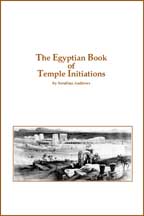 The Egyptian Book of Temple Initiations
by Serafina Andrews
Enchant your soul as you enter into these ancient Egyptian temple initiations, brought through by Serafina on her recent journey to Egypt.
Highlights…the temple of Isis, Osiris, Horus, Hathor at Dendera as well as Luxor and Karnak.
Our Egyptian guide said, "these initiations are just as alive now as in ancient times!"
"A gem of a book". ~ G. S. BOOK $12.98 order here
~ ~ ~ ~ ~ ~ ~ ~ ~ ~ ~ ~ ~ ~ ~ ~
Children's Summer Art Classes
In Mendocino California
Dates To Be Announced!
Thursdays 10:30-12
Ages 6-12 years

Come have fun in the world of art
Exploring how to draw
From life and nature
We will learn from viewing the
Works of master artists, and listen to
Some of the most beautiful music in the world
As we create a dance on paper
With costumes and color
At Serafina's ART BARN STUDIO
Fee to be announced, students supply materials
Limited Registration
Contact Serafina for more information