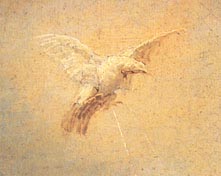 A WARM HELLO TO YOU, TRAVELER!
Welcome to our new Golden Harp web-site. Greetings of Light and Love! May the angels enfold you in their wings of peace and joy!
We are happy to announce that, at last, we have sound samples for most of the Golden Harp Collection of CDs; just click to hear generous examples of this exquisite and uplifting music, co-created with masters of love and healing. The inspired music of Joel Andrews has been tested in the laboratory for its deep effectiveness and 50 of the most unusual cases of healing are reported in his definitive book 'A Harp Full of Stars' (which can be ordered here). Mr. Andrews has completed over 3,000 Individualized Attunements and yours is available by mail.
With the stress that world conditions are bringing us now, it has become vital that we maintain peace, love and harmony at the core of our beings – especially so we can hear our higher guidance. This music has been found to be amazingly effective in providing these qualities. Even when it is played at a low volume it has been found to create an ambience of holistic health in any space.
Serafina continues her counseling from the angels and masters. Through their own words you receive their deep compassion, respect and wisdom to help you understand, overcome, and grow with your life challenges.
We have received hundreds of letters from grateful clients and some quotes are here.
The guiding principles of our work are integrity, love, and service to the unfolding enlightenment and ascension of all our brothers and sisters! Golden Harp is dedicated to the transformation of this troubled world through peace, harmony, love, healing and spiritual ecstasy.
Many thanks to Serafina for the design of this beautiful site. Please enjoy exploring these treasures of the soothing and restorative arts and check out our specials.
The CDs which listeners are finding especially valuable for maintaining serenity, expansive love, and an ambience of harmony, are: AVE MARIA, IRIDESCENCE II, and "GLORIA FOR GAIA".
Then to enhance your love-life, "HEARTSONG" MUSIC FOR ROMANCE.
I've found it helpful to remember: it's not so important how long you live (since anyone reading this is bound to be going on to some higher world), but HOW YOU LIVE EACH DAY HERE ON THIS PLANET!
But first, a gift for you, if you can take a few minutes:
Much Love and Light to you!
Joel and Serafina Andrews and Golden Harp

INSTANT HEALING MEDITATION
SIT UP WITH YOUR SPINE STRAIGHT. LET YOUR BREATHING BE SLOW, DEEP, AND LONG. ON THE INBREATH TAKE IN THE LIFE FORCE THAT IS ALL AROUND YOU. ON THE OUTBREATH RELEASE ALL TENSION IN THE BODY. AH, WHAT A RELIEF!
THEN EMPTY YOUR EMOTIONAL BODY OF ANY NEGATIVE CHARGES. OH, WHAT A LIGHTENING!
THEN VISUALIZE YOUR MIND AN ENCLOSURE OF YELLOW LIGHT, JUST FOR NOW ALLOWING ALL THOUGHTS TO PASS ON OUT UNTIL YOUR MIND CLEARS. WHAT A BOON TO CREATIVITY! -- TO SLOW DOWN THE CHATTERING AND ELIMINATE THE CLUTTER OF YOUR MIND. AH, A CLEAN SLATE!
NOW OBSERVE HOW YOU FEEL. REFRESHED? LIGHTER? OPEN? MORE POSITIVE AND EXPECTANT? YOU COULD FOLLOW THIS WITH A SPIRITUAL ALIGNMENT OF YOUR CHOICE. WITH PRACTICE YOU CAN DO THIS IN 3 TO 4 MINUTES.
GREATLY ENHANCED WITH
CD: $19.98 ORDER HERE

---