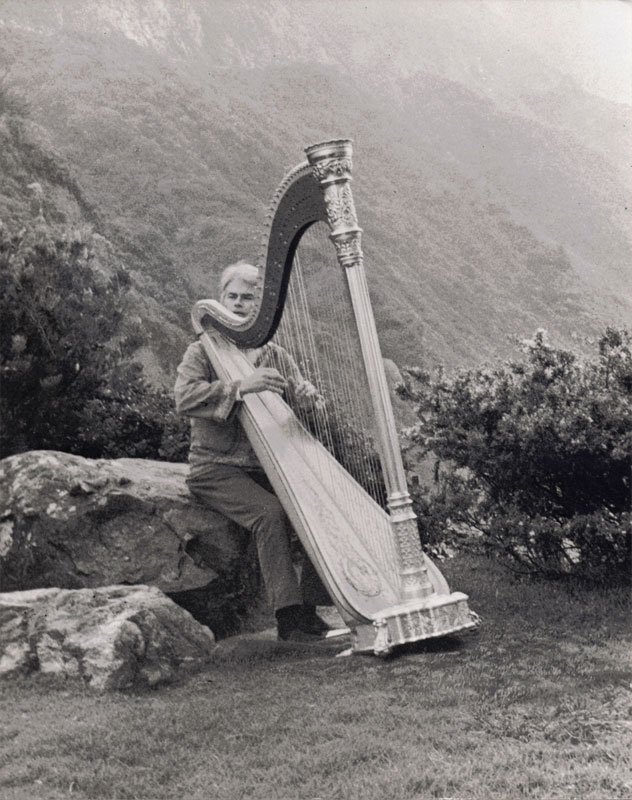 Joel Andrews
May 25, 1928 - March 20, 2019
Dear Friends, Music Lovers and those on the Spiritual Light Path.


We reach out to you with news of our beloved Joel Andrews
taking his leave from the earth plane and spreading his wings to higher realms.


Joel's passing brings us sad parting, but we rejoice in the gift he gave to so many souls: a glimpse of
heavenly music played by the Angels.


Although he will be missed dearly by all who knew and loved him,
His Light Torch for higher purpose and service will continue on into eternity.
~
To honor Joel Andrews's legacy contributing gifts can be sent to Golden Harp
For the dedication of promoting his Recordings, CD's, Books, Sheet Music and Articles on Sound Healing and the Healing Effects through Music. ~~~~~~~~~~~~~~~~~~~~~~~~~~~~~~~~~~~~~~~~~~~~~~~~~~~~~~~~~~~~~~~~~~~~~~~~~~~

Major New CD Release!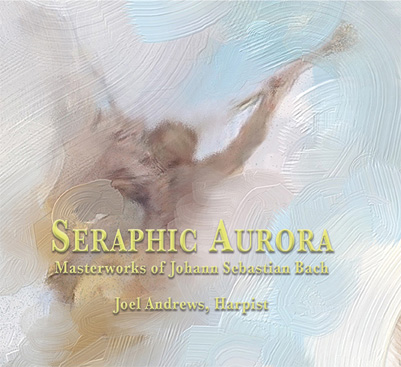 Seraphic Aurora
Masterworks of Johann Sebastian Bach
Joel Andrews, Harpist


"Masterful harpistry--a crowning achievement"
Dear Friends and music lovers, we are thrilled to announce the long- awaited arrival of Joel Andrews' exquisite new CD, "Seraphic Aurora". This is truly one of Bach's masterpieces.
Mr. Andrews brings exquisite nuances and mastery to new heights, as Bach comes alive with his expression and brilliant interpretive subtlety.
Included are the "Prelude No. 1 in C Major" -- "Prelude No. 8 in Eb minor" -- "Partita No. 2 in D Minor" (includes the celebrated "Chaconne") -- along with his sublime improvisations in the style of Bach, "Seraphs of Light" and "Aurora Borealis".
It is a divine expression of his finest musicality and gifts.

~~~~~~~~~~~~~~~~~~~~~~~~~~~~~~~~~~~~~~~~~~~~~~~~~~~~~~~~~~~~~~~~~~~~~~~~~~~


New Book Release!
The Wisdom of Emotions
by Serafina Andrews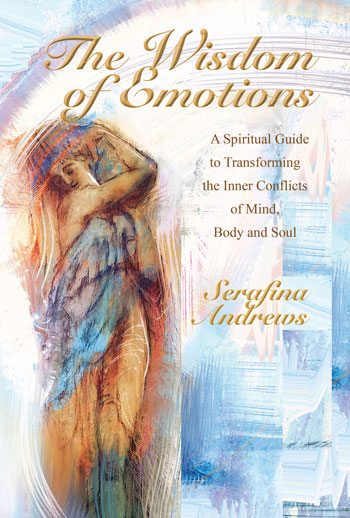 In this unique and remarkable book, Serafina Andrews draws from Universal Spirit to open the archives of higher wisdom concerning human emotions. Here you can experience profound insights into what your emotions are trying to awaken in you.Through understanding the message behind them you can be released from long-term suffering, and re-unite with positive forces in your life.

"Your new book has transformed my life. What a gift! I felt deep healing emotionally and mentally and inner peace and more love in my heart.Thank you for sharing this jewel!"
– Rev. Carol Eckels, The Spiritual Healing Center, Mill Valley, California

"It is a beautiful sacred and wonderful book that will bless so many lives, especially at a time when people really need this kind of guidance."
- Catherine Rourke, Award-Winning Writer, Journalist, Columnist, Author and Editor
BOOK $16.98 ORDER HERE
---
Miracles Through Music - The Odyssey of a Music Healer
by Joel Andrews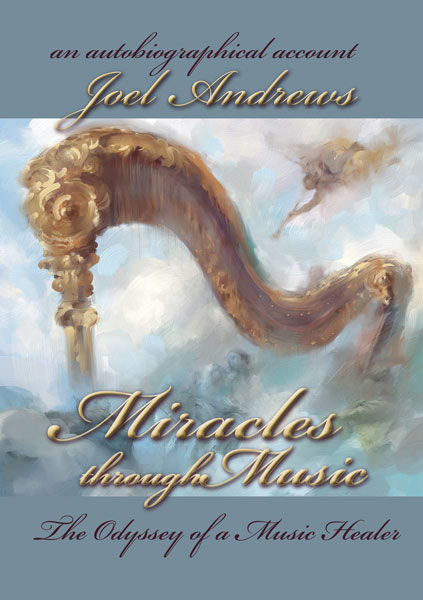 After four years of writing, Mr. Andrews' new book, "Miracles Through Music" is coming off the presses! He reports on highlights of his tours through Europe, and hundreds of testimonies of healing miracles from his over 3,000 clients. He describes how he was "opened as a channel" to co-create music with higher dimensions. Included are conversations with plants and animals, expansions of the Spiritual Renaissance concepts of "Co-creation" and "Love", and guidance along the path to spiritual awakening. "Miracles" is much expanded from his last book, "A Harp Full of Stars". The Appendix contains many of the systems given to him for his ground-breaking work, such as how to translate letters into pitches and their deeper symbolism. Here you will also find valuable affirmations. This unique revelation has expanded the potential of the harp and should be of value to harpists, music therapists, healers, psychics, artists, and spiritual seekers in all walks of life.

"He plays like a god!" – Romula Nijinsky, wife of the great Russian Dancer

"The music of Joel Andrews evokes a purity and radiance of the celestial realms that is rarely heard or experienced here on Earth….His music immediately raises one's energy and vibrations to the realms of Supernal Light." – Aoliah

"His music is some of the most transcendent I have experienced. We use it frequently to assist patients in entering all states of consciousness." – C. Norman Shealy, M.D., Ph.D.

"This is an amazing book! Filled with beams of light radiating higher truths. Every chapter opened new worlds for me.I have heard Joel Andrews play in Concert and have been transformed.I had no idea his book would revel such a rich spectrum of miracles."
- Sophia Brooks

BOOK $20.00 ORDER HERE
---
NEW!! Dream Time with the Fairy Angels
Written and Illustrated by Serafina Andrews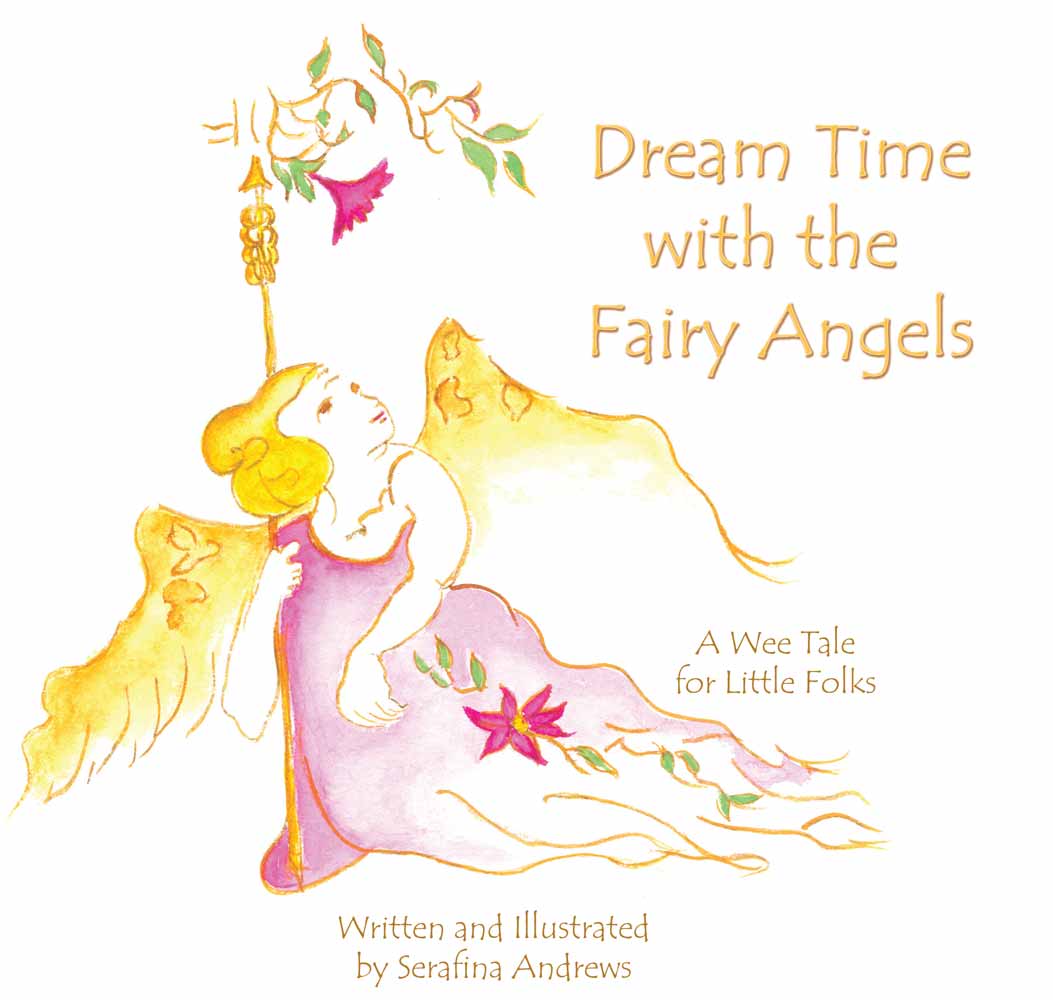 Imagine a book that can help your children enter the dream time at night knowing they will feel safe.
This charming book, with the help of the fairy angels, invites little folks to dance, play, and have fun as they are shown a positive view of the world. It can help them open to their own creative gifts.

Magical Story
"This is a such a lovely children's book and moms and dads will enjoy how it helps their children wind down- most appreciated!
My daughter says " I really love it. It makes me very happy and sleepy." Perfect!"
By Yoginimom - See all my reviews


26 pages of Story & Beautiful Illustrations
BOOK $9.95 ORDER HERE




---
New CD! "Harp of the Fairy Angels
with The Golden Harp of Joel Andrews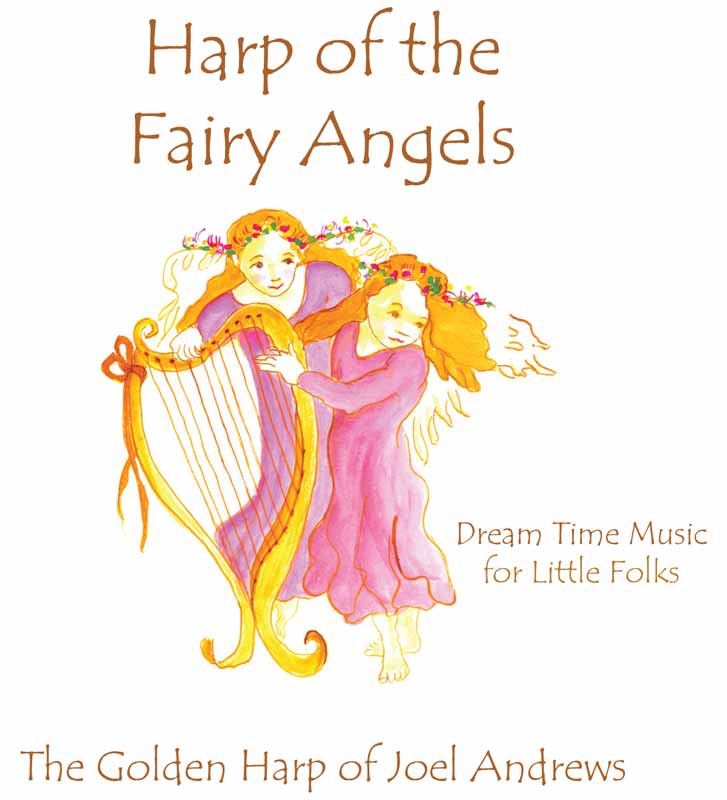 A perfect companion to "Dream Time with the Fairy Angels" to lull your little ones into a peaceful soothing sounds, bringing them positive feelings of protection, well-being, and joy.

Now available as "Solar Winds" with streaming and downloadable releases coming soon!
CD $19.98 ORDER HERE
---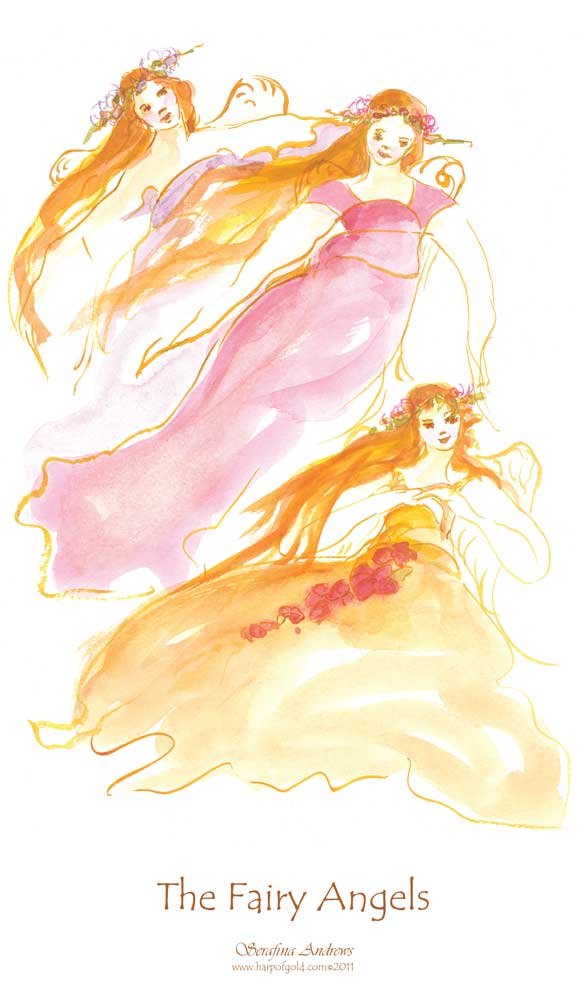 Fairy Angel Poster
by Serafina Andrews
Let these Guardian Fairy Angels surround and protect you as you dream at night! Perfect for your child's room to help them feel safe at night.
This lovely poster comes 13x19" ready to frame, and is sent in a mailing-tube for safe delivery.
Poster $20.00 ORDER HERE
---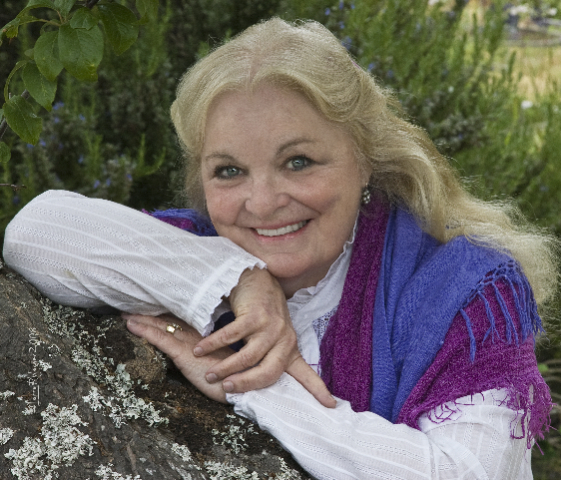 Upcoming Events
2019-2020
Individual counseling sessions available with Serafina Andrews.
Please call for scheduling appointments - (707) 964-6740
Click here for details
---
 Now available from Golden Harp: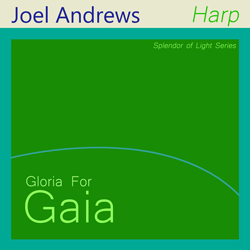 "GLORIA for GAIA" featuring Harpist Joel Andrews

Joel Andrews is a dedicated pioneer music healer. Here he has co-created, with his Sources, healing music for our beautiful planet and the life forms upon it. Whenever this unique music is played, it emanates resonances of cleansing, transmutation of negativity, and harmony to effect the surrounding environment. The Higher Beings who gave us this majestic and gloriously positive music have promised to carry it out into the world wherever it's needed, but they honor our free will and wait until we choose to take part in the grand plan of ascension of our world. So not only will this unique music cleanse, harmonize, and uplift the ambience of your home, but will be carried in ripples out across the countryside far and wide..

~ ~ ~ ~ ~ ~ ~ ~ ~ ~ ~ ~ ~ ~ ~ ~ ~ ~ ~ ~ ~ ~
We are working on a new series of recordings that support healing: Mr. Joel Andrews is creating new recordings to support therapy for: *Heart *Spleen *Organ Functions *Death & Dying *Migraines *Menopause *Aging & Rejuvenation *Thyroid Balancing. Mr. Andrews welcomes collaboration with scientific research to substantiate the positive effect of sound on healing. We also welcome suggestions, contributions, and any further information, to enhance the funding of this project. We are inviting further medical studies to document the scientific results of this music. Already it has a history of effectiveness during a 25-year span with 3,000 individual healing tapes Mr. Andrews has created.
~ ~ ~ ~ ~ ~ ~ ~ ~ ~ ~ ~ ~ ~ ~ ~ ~ ~ ~ ~ ~ ~


~ ~ ~ ~ ~ ~ ~ ~ ~ ~ ~ ~ ~ ~ ~ ~ ~ ~ ~ ~ ~ ~



Golden Harp is pleased to announce a new addition to our web site: "SerafinArts"
The art work of Serafina Andrews. Drawings, Paintings and fine Geclee Prints available now!
~ ~ ~ ~ ~ ~ ~ ~ ~ ~ ~ ~ ~ ~ ~ ~ ~ ~ ~ ~ ~

Message from Joel:
"After many years as an oracle for the Angelic realms in workshops and individual counseling in many countries, Serafina now offers some of her best artistic co-creations. These unique pieces carry Angelic vibrations and have been a favorite offering on our tours. They have been found to bring peace, joy, harmony and healing into a room."

~ ~ ~ ~ ~ ~ ~ ~ ~ ~ ~ ~ ~ ~ ~ ~ ~ ~ ~ ~ ~

Interview on International Television
Joel and Serafina Andrews were guests on the international spiritual television talk show "Bridging Heaven and Earth" (March 8, 2002). Please check with: http://www.heaventoearth.com , for more information on how to view this television program.
~ ~ ~ ~ ~ ~~ ~ ~ ~ ~ ~ ~ ~ ~ ~ ~ ~ ~ ~ ~