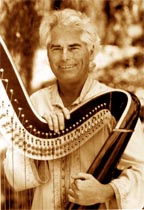 Golden Harp embodies the extraordinary music and services of Joel Andrews.He was a world-renowned harpist, composer, author and pioneer music healer. His vision was to bring all the peoples of the world together in peace and harmony through the healing power of music. He did this through concerts, seminars, lectures, individual healing sessions, counseling and the distribution of CDs and books.
Few harpists come close to Mr. Andrews' superb technical mastery of the harp on which he had discovered 30 new sounds. His concerts transcend ordinary musical performances, uplifting the body into documented states of greater balance and harmony. Researchers have found configurations similar to DNA patterns in Andrews' music and in laboratory tests it was found to change the structure of water.
Mr. Andrews' innovations in the field of sound healing have helped thousands of people unlock their highest potential by re-aligning them physically, emotionally, mentally and spiritually. Golden Harp offers a wide spectrum of services supporting the work of physicians, body workers, healers and many alternative practitioners, as well as providing tools for individuals to achieve greater harmony in their lives. This is because the music goes beyond words, representing one of the most powerful, universal forms of non-verbal communication..
Mr. Andrews created personalized healing CDs for over 3,000 individuals. Countless testimonials document the profound therapeutic and transformative effects of these sessions. His MP3ís, Streaming and CDs are distributed worldwide and used to enhance many modalities of therapy. Tours to 11 countries have uplifted thousands through concerts, improvised for each time and place, and unique seminars. He had been a frequent performer and facilitator at many conferences, and has written two books entitled "A Harp Full of Stars", and "Miracles through Music" chronicling his 45 years as a music healer..
"He plays like a god!"
~ Romula Nijinski, wife of the great Russian Dancer.
We are pleased to announce
The Art of Serafina Andrews